Location
Salon Studios Beauty Mall, 3102 Loring Road, Suite 160, Room 110
Kennesaw
,
Georgia
30152
United States
Hours of Operation:
Monday-Friday, 3pm-11pm, Saturday, 6am-6pm, Sunday, 3pm-9pm
Services:
Blow-out
Flatiron
Haircut
Deep conditioning/protein treatment
Braids
Locs
Twists
Natural/curly styling
Extensions
Other
About the salon:
My company is based on the belief that my customers' needs are of the utmost importance. I am committed to meeting those needs. I am a motivated hairstylist who is head over heels in love and enthusiastic about the hair industry. My specialty in natural hair comes with dedication to provide high quality hair care & services on a consistent basis. Every one that sits in my chair is a MVP and will be treated like the queen or king they truly are! I am an excellent listener & communicator who works hard to make each client's experience a positive & enjoyable one. I look forward to servicing your hair care needs. SPECIALIZING IN NATURAL HAIR! Crochet Braids, Silk Press, Locs, Doube' Wraps, Rod Sets, Braid & Twist Sets, Blow Dry, Flat Iron and much more! FOLLOW ME ON INSTAGRAM: crownedwithglory2016
Hair/Salon pictures: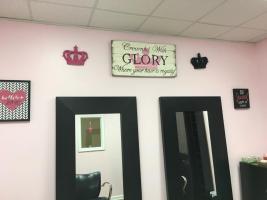 Have you been to this salon?