Location
3928 Rosewood Drive
Columbia
,
South Carolina
29205
United States
Hours of Operation:
Open Tuesday thru Saturday opening daily at 9am
Services:
Flatiron
Relaxer
Haircut
Color/highlights
Deep conditioning/protein treatment
Braids
Locs
Twists
Natural/curly styling
Extensions
Other
About the salon:
The mission of the Pynk Butterfly is to supply services and products that enhance our clients' physical appearance, emotional well-being, and mental relaxation. We use the best in professional hair care products. Pynk helps women suffering for hair loss due to alopecia, chemical therapy, etc. We provide (beautiful | realistic | natural | affordable) options for hair replacement in an beautiful and peaceful setting by consummate professionals experienced in returning your hair and your esteem back to prominence. Hair loss is our specialty. We can make a natural looking custom system design just for you. If you suffer from alopecia, trichotillomania, side effects of chemothereapy, or any hair loss proble–even if you just want to look fabulous–Glamour Hair Systems is the answer!
Hair/Salon pictures: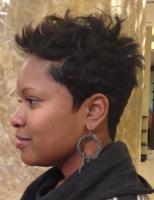 Have you been to this salon?