Location
20323 Huebner Road, Suite 105
San Antonio
,
Texas
78258
United States
Services:
Blow-out
Flatiron
Relaxer
Haircut
Color/highlights
Deep conditioning/protein treatment
Braids
Locs
Twists
Natural/curly styling
Extensions
About the salon:
The First Multi-Textural/Ethnic Hair Salon in the heart of Stone Oak. At our modern salon, our stylists take pride in providing quality hair services using the latest techniques and treatments. Please look around our site. We look forward to caring for your hair. California native Tiffany Porter, founder and owner of Studio 55 Hair Salon, offers years of expertise working with a variety of styles, hair textures and ethnicities. Studio 55 is a chic, trendy, modern salon conveniently located in the heart of Stone Oak.. All Studio 55 stylists are certified and licensed. Our focus and priority us to maintain beautiful healthy hair. We have a team of highly educated stylists with specialties ranging from cutting and styling to color and chemical treatments. We also offer varying hair enhancement options including extensions, partial and full weaves. At Studio 55, we use top of the line hair care products and commit to partnering with you to design the best look FOR YOU and your specific needs. Our goal is to make sure that your hair doesn't look like anybody else's, but that everybody wants your hair! We offer a no fee consultation that is tailored specifically for you to ensure you leave satisfied, confident, sexy and ready to take on the world. Trusting your hair to Studio 55 means you are in safe, qualified hands and can expect to receive quality results.
Hair/Salon pictures: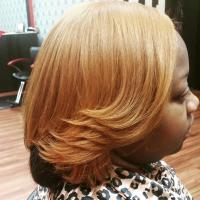 Have you been to this salon?